5775 (2014-2015) Meeting Schedule
THIS YEAR'S THEME:
This year is the year of good health! Get ready for a fulfilling and uplifting year full of great presenters and activities as we delve into all aspects of well-being — physical, mental, emotional and spiritual.
Enjoy great food by our volunteer hostesses and great food for the soul with our fascinating Torah discussions. Plus, we have a few other surprises in store!
Tuesday, September 16
Torah Talk on Connecting The Heart And The Mind
Speaker: Marcia Torobin, director of the Santa Fe Jewish Film Festival, will speak on "A Tale of Two Cities: Hollywood and Berlin."
Although the majority of studio heads were Jewish, the studio continued to do business with Germany as Hitler rose to power. Marcia will discuss this strange paradox and give an inside look at the politics of the silver screen in the 1930s and 1940s.
Sponsored by Lena Keslin in honor of her father's 95th birthday; and Belinda Martinez. Hostesses: Lisa Freeman & Camilla Mandler.
Thursday, October 23
Torah Talk on Havdalah: The use of the five senses in spiritual awareness
Activity: In our two-part class, we will braid Havdalah candles with beeswax, and Ruzina Busch will lead us in a class on making "pinch pots"—clay vessels to be used accessories for the Havdalah service, such as candle holders or spice boxes.
Sponsored by Paulina Robinson in honor of her husband, children & grandchildren; Jane Davis in honor of her mother; and Vivian Reinikainen in honor of John Gundzik's 80th birthday. Hostesses: Marilyn Bennett & Yaszmina Nedboy.
Sunday, November 16, 12 Noon
Special Event
Come and meet the women of the Albuquerque Chabad! We are looking forward to hosting a special luncheon and meet-and greet. Together we will bake rugelach —"Jewish soul food" traditionally used for community festivals!
Sponsored by Margie Lessen, in memory of her parents, Max and Ruth Lichtenthal, and her sister Ronnie Lichtenthal; and Phyllis Kapp in memory of her parents, Isidore and Rebecca Waxlander.
Wednesday, December 17
Torah Talk on Chanukah: Spiritual resistance in a physical war
Chanukah Party with menorah lighting, food and speaker Claudette Sutton. In her book, Farewell, Aleppo, she tells of her father surviving Syria's anti-Semitism and fleeing to Shanghai during World War II before coming to America. Claudette will offer suggestions for preserving family stories.

Kate Shane will entertain with the beautiful sounds of her harp.
Sponsored by Nurit Patt in honor of her parents & her husband Yehuda's parents; Donna Secular in memory of her mother, Audrey Secular; and A.J. Melnick in honor of her husband's birthday.
Hostesses: Lisa Levine & Stephanie Rosen.
Monday, January 19
Torah Talk on thoughts: The power of one's thoughts & their reflection on the psyche
Speaker: Dream expert Victoria Rabinowe and assistant Freya Diamond will talk about dreams. Learn about the significance of your "nighttime excursions," with a special focus on the dreams that honor the depth of our spiritual connection. Victoria and Freya will also show us their art-filled dream journals and handmade books!
Sponsored by Marilyn Bennett in memory of her father, Max Applebaum; and Susan Paradise in honor of her son, Zachary Slovinsky.
Hostesses: Susan Paradise & Donna Secular.
Thursday, February 19
Torah Talk on Purim: The power of a positive attitude
Activity: Exercise anywhere—in a chair! Movement educator Carolyn Albin will show us five fitness musts to improve your posture and optimize the time you spend sitting. Increase your strength, flexibility and comfort while seated. These techniques are also great for people with limited mobility.
Sponsored by Carolyn Sue Albin in loving memory of Wendy Jane Sukman; and Judy Moore in memory of her husband Bobby.
Hostess: Carolyn Albin.
Wednesday, March 18
Torah Talk on Matzah: The bread of healing
Speaker: Don't we all want to age better? We'll find out how from Dr. Lee Levin, who uses nutrition, exercise, vitamins, supplements and more to help his patients slow down the aging process. 
Sponsored by Joan Grossman in honor of her three
 grandchildren; and Vivian Reinikainen in honor of her granddaughter Yeva's bat-mitzvah.
Hostess: Joan Grossman.
Tuesday, April 21
Speakers: Herbalist Margie Lessen will tell us how to use herbs and essential oils for health and mood;Elena Giacomin-Dennis will talk about how to take care of our skin in this dry 
climate. You'll take home your own vial of healing oil.
Torah Talk on the Kabbalah of the body
Sponsored by Beverly Berger & Trudy Blitz in loving memory of Joseph Blitz; and Joalie Davie in memory of her grandparents, Ephraim and Malkah.
Hostesses: Beverly Berger
Monday, May 18
Torah Talk on "Flowers on the Mountain": The gift of the Torah
Speakers: "The Language of Flowers:" Margaret Bost, owner of Santa Fe Floral, will instruct us in the beautiful art of flower arranging. Then Jane Phillips will explain how to use flower essences for both physical and emotional comfort.
Sponsored by Regina Klapper in memory of her father, Philip Eisman; and Barb Lamont in honor of her mother's birthday.
Hostesses: Regina Klapper & Ruzina Busch.
Year-End Meeting Tuesday, June 16
Torah Talk on music: "The Pen Of The Soul"
We'll have fun with Zumba, an energetic exercise using easy-to-learn dance moves. It will come in handy as we work off our year-end dinner!
Sponsored by Camille Ovitsky in memory of her father, Ezra Levy; and Janet Eigner in memory of her daughter, Naomi Tamar Eigner-Bybee, and her parents, Leonard and Mae Benowitz. Hostess: Camille Ovitsky.
---
New Membership Features
Jewish Women's Circle membership covers September 2014 through June 2015. Membership will remain at $54 and includes all 10 monthly meetings and activities. Non-member fees will be $10 for regular meetings, $15 for the Chanukah party, and $20 for February's Shabbat dinner.
 Becoming a member will save you money, but here are two new features that will give you additional reasons to join:1. Birthday Club!
 Members will get a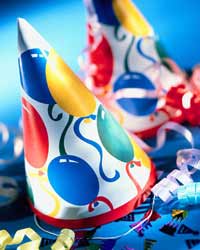 bunch of birthday goodies: their birthdays announced in this newsletter, a card, a cake in honor of that month's birthday girls, and a lovely gift! (We have already purchased gifts and I can tell you they are truly beautiful!) Make sure when you renew that you tell us when your birthday is so we can add it to the list.
2. Share your news here!
 If you are a member and you have any exciting news that you want the group to know about, send it to us and we'll run it in this newsletter. Is your child getting married? Do you have an art exhibit opening? Have you just published a book? Whatever it is, you'll be able to publicize it here!
Remember, these two new features will be available to members only! So send $54 your membership check to our treasurer, Joan Grossman, at 513 Rio Grande Ave., Santa Fe NM 87501.  Or click here