Join us for Chanukah fun on Wednesday, December 4th!
We'll light the menorah and Devorah Leah will continue our mitzvot discussion series with a talk on food and nourishment, including eating consciously, easy ways to eat kosher, understanding kosher symbols and proper food preparation.

We'll have delicious Chanukah treats and musical entertainment from harpist Kate Shane and singer Racquel Yossiffon.

We will have our second holiday gift drive for the Esperanza Shelter for Battered Families (thanks to Lisa Freeman and A.J. Melnick for this wonderful idea!). This is of course voluntary, but if you want to participate, here are some suggestions for items the shelter needs:
--Toys and games for young children and teens
--Backpacks and luggage
--Blankets and bed linens (twin size)
--Clothing (any kind, including hats, gloves, etc.) for adults, teens or kids
--Gift cards to places like Target, Kmart and Kohl's
--Gas cards
--Rail Runner gift cards
--Car seats and booster seats
--Food: canned or packaged, but not perishable
Since these are holiday gifts, merchandise should be new, and please do not wrap the items; the shelter needs to see what they are before giving them out.
Our December party is being sponsored by Susan Paradise in memory of her father; Joyce Gitomer in honor of her grandchildren; and Sally Lowen in honor of Devorah Leah and all the wonderful women in the Women's Circle.
---
New Membership Features
Jewish Women's Circle membership covers September 2013 through June 2014. Membership will remain at $54 and includes all 10 monthly meetings and activities. Non-member fees will be $10 for regular meetings, $15 for the Chanukah party, and $20 for February's Shabbat dinner.
 Becoming a member will save you money, but here are two new features that will give you additional reasons to join:1. Birthday Club!
 Members will get a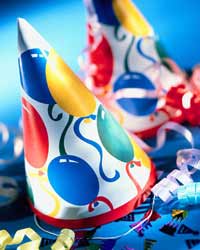 bunch of birthday goodies: their birthdays announced in this newsletter, a card, a cake in honor of that month's birthday girls, and a lovely gift! (We have already purchased gifts and I can tell you they are truly beautiful!) Make sure when you renew that you tell us when your birthday is so we can add it to the list.
2. Share your news here!
 If you are a member and you have any exciting news that you want the group to know about, send it to us and we'll run it in this newsletter. Is your child getting married? Do you have an art exhibit opening? Have you just published a book? Whatever it is, you'll be able to publicize it here!
Remember, these two new features will be available to members only! So send $54 your membership check to our treasurer, Joan Grossman, at 513 Rio Grande Ave., Santa Fe NM 87501.  Or click here